EDUTEST was founded in 1982. Today, 37 years down the line, It has turned into India's foremost Paper-Pencil-Based Testing Solutions company with more than 100 premier customers in India today. Till now we have served more than 1590 customers and conducted 1130 million exams.
We presently convey more than 50 million exams each year for our clients from diverse fields. Our decades of experience in both test development and delivery has helped our customers in successfully delivering exams that measure the skills, knowledge and attitude they needed to measure. We work closely with our partners and our reliability ensures that our partners succeed in their tests. We deliver the right mix of expertise, guidance, execution, customer service and complete solution for all our clients.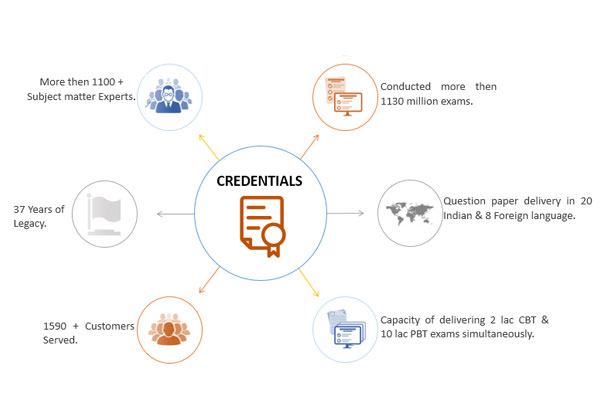 Our Client list includes various Secondary Education Boards, Universities, Various All India and State Level Recruitment Boards and Bodies conducting Entrance Tests on National and State Level. Having been in this segment for over last three decades, we are claimed to be masters in this field delivering to our Clients with Zero Defect
"To be the partner that best understands and satisfies the product, service and integrity needs of tests—globally."
A pioneer in testing services, EDUTEST has been leveraging its ISO certified processes in transforming the way tests are managed and delivered. It offers high levels of reliability, quality and security for consistently delivering large tests. In addition to Paper & Pencil based tests, EDUTEST also offers other allied examination services like Test Design & development, Biometric based Candidate Authentication, complete Test Administration & Result Processing. Leading Government Organizations, Educational Institutions, Boards and Universities have trusted us to partner them – leveraging our rich experience and robust technology framework, Secure Printing Solutions, Confidential Printing Services, Security Printing Services, Online Exam Conducting Agency, Online Assessment Solution Provider, Digital Examination Solution.
Over the last three decades, EDUTEST has gathered significant expertise in Test Design, Development and its Delivery & Administration for all kind of tests –both Paper & Pencil based as well as Computer Based Tests. It has been eveloping and administering tests for over 100 customers in more than 250 cities.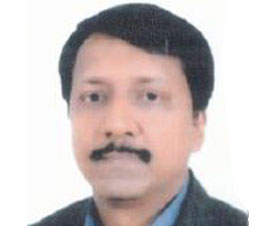 Mr. Vineet Arya ( Chairman and Founder Director )
With glorious experience of more than 26 years Mr. Vineet is Managing Examinations passionately. In his tenure EDUTEST has grown exponentially. Innovations and process improvements are the key interests he has in Examinations and testing services, which made the organization internationally acclaimed. He has guided the Company to new heights with turnover registering a growth of 100% in 3 years. Acclaimed innovation by Vineet in introducing the SEAL Technology for eliminating all mal practices in the exams, have found acceptance among many Clients across the Country.
He has ventured into real estate business being a first generation of entrepreneur. He has successfully developed many residential , commercial and resort projects in India. Some of the Projects completed by him are masterpieces in Architecture and landmarks in the Ahmedabad Real Estate Horizon.
Vineet is strongly associated with various Social Service Projects for the upliftment of the poor and slum dwellers especially through Anganwadi education.
Vineet is a Commerce Graduate for HA College of Commerce Ahmedaba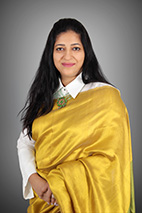 Mrs. Jaya Arya ( Director and CEO )
After attaining her BA in Psychology from the St. Xavier's college in Ahmedabad, she put her ambitions on hold to raise two competent sons and ensured that they got the best education and resources available in the country. Subsequently, without any formal job experience but with a hunger for success, she joined Edutest Solutions full time in 2010. Within just three years of her heading the operations, her efforts were recognized and in 2013, she was awarded the Best Emerging Woman Entrepreneur of Gujarat by the SME chambers of India. Using this recognition and respect as a stepping stone, she entered the marketing and sales side of the business and within the next 4 years, increased the turnover fivefold. She is also the Director of JBR Nirmaan Pvt. Ltd, a family run real estate corporation that has developed residential schemes, weekend homes and commercial offices around the country.
Apart from work, she is a philanthropist who has dedicated her time to the education of Anganwadi and slum children. She is also closely associated with the ISHA foundation.
She has a plethora of interests, such as painting, reading, poetry, cycling and photography. She has a penchant for adventures and believes in seizing the day and that is the philosophy she lives her life by. In her free time, which comes very rarely to her, you will probably find her sipping tea and enjoying a Dan Brown classic.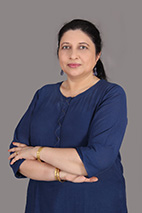 Mrs. Maya Patankar ( Chief Operating Officer )
Maya is a Digital Assessment and Examination Pioneer and Veteran with a legacy of managing best of the National and International customers. Maya has more than two decades of successful Leadership Experience with reputed Corporates including TCS, MeritTrac and NIIT Ltd. During her tenure, she has been managing end to end Business Operations, Customer Engagement and acquisitions, and flawless deliveries with Innovative Digital Expertise. She is a savvy operations leader with indelible reputation for delivering inventive business strategies and client focused solutions that improve margins. Recognized for transforming global operations, systems profitably and productively, Maya is responsible for end to end Business Operations of EduTest's Digital and Turnkey Solutions.
A Symbiosis MBA and a Commerce Topper of Mumbai University, Maya is avid reader, is associated with many learning initiatives helping children cope up with examination stress, spiritual in nature, Maya, takes keen interest in helping underprivileged people in best of her capacity.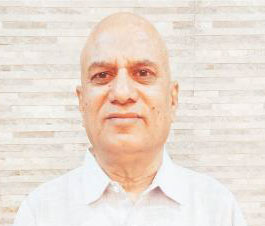 Mr. Dinesh Sharma ( General Manager – Confidential Business)
Dinesh comes with more than 4 decades of solid experience in serving railways and government organizations. Dinesh is associated with EDUTEST for more than 8 years. Dinesh is managing confidential business meticulously, has a team size of 250+ employees.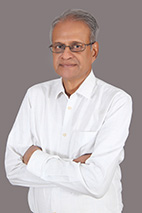 Mr. Mohan Kamath ( Business Executive )
He comes with 4 decades of strong experience in Banking and Financial Sector having a brief stint as a CEO with a Bank. He has been associated with EDUTEST for past 6 years and looking after confidential laisoning matters of EDUTEST. He takes keen interest in classical music, organized various concerns through SPICMACAY.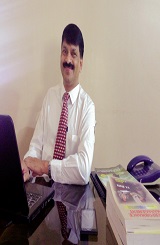 Mr. Abraham T. M. ( HEAD – HR & ADMN )
Mr. Abraham T.M is a senior and seasoned HR professional with more than 25 years of experience spanning all sectors like manufacturing, engineering, FMCG, IT, clinical research, construction and hospitality.
He has done MSW from Indore School of social work and MBA from SCDL-Pune. In addition he holds a diploma certificate in HR from IIM Lucknow.
He has worked with renowned organizations in HR sphere and has headed this function for more than 15 years. His passion for people, their development and setting up systems and process to make the organisation more competitive and professional has made him a successful HR professional.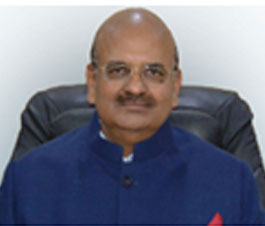 MR Alok Ranjan  ( Advisor )
Alok Ranjan is a retired IAS officer of 1978 batch of UP cadre. He retired as Chief Secretary of UP in 2016 Prior to joining the IAS he did his BA(hons) Economics from St Stephen's college Delhi University and MBA from IIM Ahmedabad. During his service career he held the posts of District Magistrate, Secretary Education, Secretary Finance, Secretary to Chief Minister, Principal Secretary Urban development, Joint Secretary Defense, Agriculture production commissioner and Infrastructure and industrial development commissioner with distinction. After retiring as Chief Secretary he worked as Chief Advisor to the Chief Minister in the rank of a cabinet minister.. He is on the board of Sri Ram Pistons and Jakson engineering. He is on the governing committee of various universities. He is a visiting professor at IIM luknow. He writes regularly for national newspapers and is the author of two books on public policy. He is Advisor to PHD Chamber of commerce and Chairman Policy Think Tank.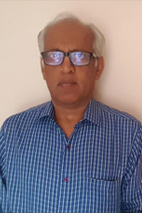 PROF. G. B. REDDY ( Advisor )
Prof. G.B.Reddy obtained Ph.D. from IIT Delhi(Dec.1982). He has taught several courses for 34 years at IIT Delhi and supervised several Ph.D., M.Tech./M.Sc. students in completing their theses. He published 88 research papers in international reputed journals/conference proceedings. In addition to the academic responsibilities at IIT Delhi, Prof. Reddy was entrusted responsibilities of chairman/member of organizing committees for conducting major national level competitive/entrance examinations viz. GATE, JAM, JMET,IIT-JEE and JEE(Main) during the years 2008 to 2013.The organizing committee of IIT-JEE-2012 under his leadership conducted JEE-2012 with many first-time features like introduction carbonless copy paper based OMR, facilitating candidate to take home copy of answer sheet and giving an opportunity to all candidates to challenge the machine read answers before result making. He played an important role in conducting GATE online examination first-time in 2010. He was the Convener of Joint Academic Committee (JAC) of JEE(Main) during the years 2013-2015. He was the chairman of Joint Seat Acceptance Committee(2013) and member of the "Technical Committee for IITs and NITs Joint Counselling (2014)". This committee framed all business rules to facilitate joint counselling and joint seat allocation for all IITs, NITs and CFTIs. He was a member of three committees constituted AIIMS (Delhi), JIPMER (Puducherry) and NIMHANS (Bengaluru) for starting their Online entrance examinations.
A successful assessment program hinges on valid and reliable testing instruments.
Anti-Cheat
CCTV Surveillance
Biometric Authentication
Secured Testing Environment
(i) Secure Browser (ii) Data Encryption (iii) Audit Log Report
We have over 250 assessment specialists in various languages and subjects such that we can work in 20 Indian and 8 Foreign languages and a network of over 1,500 certified test administrators across the country
EDUTEST maintains one of the largest in-house team of test administrators who are Delivering the exam flawlessly
EDUTEST has a large pool of project managers who manage turnkey solutions effortlessly to our esteem customers. The projects are managed using PMI Standards.
EDUTEST has its own center of excellence managing pre exam, exam and post exam activities. This is the secured unit following all quality standards for zero defect delivery. The center of excellence is chaired by controller of examination.
ISO 9001 Certified Process
ISO 27001 Certified Process
CMMI Level 5 Certified Process